Fan Friday: Daman's Evolve Staff Meeting. Daman Health Insurance is the region's leading specialized health insurer, providing health insurance solutions to more than 2.8 million members in the UAE. The company has been the partner of choice for multiple important organizations and multinationals across the globe. Daman is the best suited partner in various industries including energy, aerospace, oil and gas, investments, construction and media.
Daman has its headquarters in Abu Dhabi and was established in 2006. Daman offers a broad range of health insurance plans for both individuals and companies or organizations. Daman also exclusively manages the Government's health program called 'Thiqa'. Members enjoy access to the largest network of healthcare providers and a broad international network of more than 45 countries.
Daman most definitely is a pioneer in healthcare insurance. It tries to innovate on a constant basis through a combination of state-of-the-art technology and healthcare-related expertise offered by highly skilled employees. Daman definitely set high standards in the health insurance industry and has been awarded multiple international awards and certificates.
These are just some of the reasons why Herculean Alliance was honored when we were asked to organize an active 'staff meeting' for 700 to 1100 employees of Daman. The event had to include time for business updates, food/beverage and of course the Hercules trademark, an active, team building event; an event right up our alley!
Based on 16 years of international experience in Team Dynamics, Herculean Alliance suggested creating an active experience of 6 challenges.
In cooperation with Daman's organizing team, Hercules made a detailed communication plan and a planning of the day. Informational moments were included and business wasn't discussed until everyone's mind was open. In the evening there was a BBQ dinner. This is what the day looked like.
| | |
| --- | --- |
| 13.00 – 13.30 | Arrival and registration with brain teasers |
| 13.30 – 13.45 | Warming up dance or Tai chi/ yoga |
| 14.00 – 14.10 | Game 1 |
| 14.20 – 14.30 | Game 2 |
| 14.40 – 14.50 | Game 3 |
| 15.00 – 15.30 | Break |
| 15.30 – 15.40 | Game 4 |
| 15.50 – 16.00 | Game 5 |
| 16.10 – 16.20 | Game 6 |
| 16.20 – 17.00 | Business updates |
| 17.00 – 18.00 | BBQ dinner |
| 17.40 – 18.00 | Award Ceremony |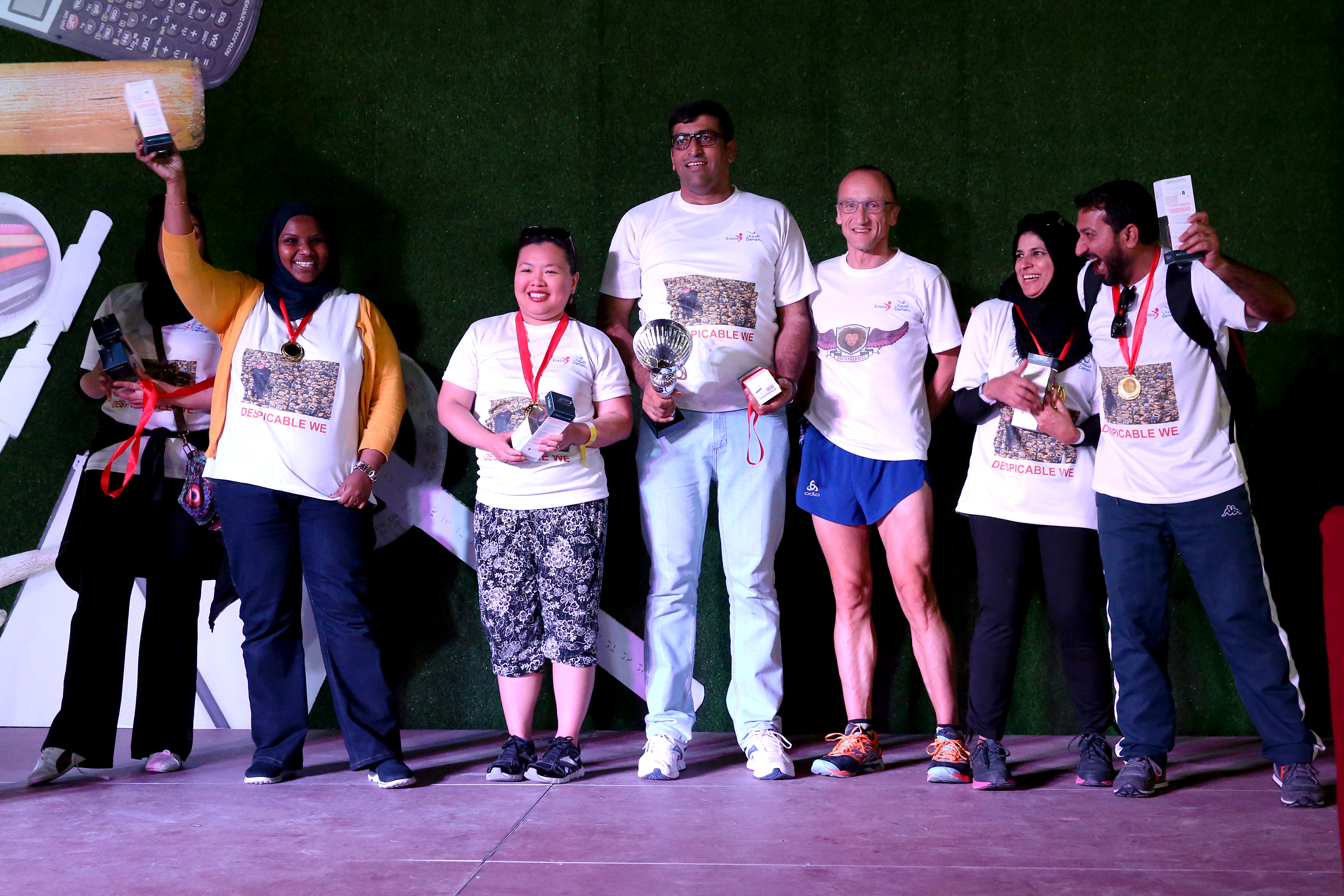 After months of planning and organizing the day finally came. On 11th of November 2015 the Evolve Staff Meeting took place at Zayed Sports City. It was a great success! Everyone enjoyed this day full of fun and team building activities. Everyone became a winner, but we wouldn't be Hercules if we didn't put the overall winners in different categories in the spotlight.
In the category Coolest team, D X fighters took first place! SpitFires and Heat Stroke were a close second and third.
In the overall ranking of the games, Despicable we….. came in first. Al Ain survivors and Fireproof completed the stage.
With more than 800 participants, the event was a true success for us and the Daman employees. Seeing all those happy faces enjoying the event, really is the ultimate reward.  This is the main reason for us to keep on organizing and supporting these corporate events. So, if you are looking for a company specialized in organizing unique for your employees, don't hesitate to contact us. We're sure that together we can host an unforgettable, fun and active event that appeals to every age and culture!