Beach Games for the city of Zemst. The summer just started and the civil servants working for the Belgian city Zemst kicked it off fantastically! Every 2 years, the city organises a teambuilding event for the entire organisation. To bring their workforce closer together, Herculean Alliance organised the Beach Games Zemst. The result was a gorgeous and unforgettable team day at the beach.
The employees made a wonderful appearance in their creative DIY-teamoutfits. A pilot and his hostesses, the stars of The Muppet Show, the Red Devils and the protagonists of a famous TV series: they were all present.
'A good preparation is a job halve done', a quote the civil servants know very well. In the months before the Beach Games everyone rushed to their custom made event website, hosted on the Herculean platform. No surprise that all teams were 100% prepared and super eager when they entered the scene.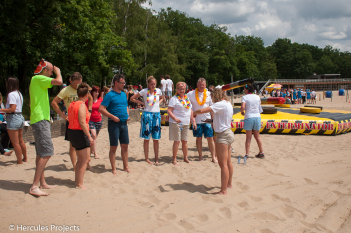 The teams of 5 to 7 participants were thrown into 7 fun challenges. Before they started off with the real work, the muscles were stretched in the Herculean warm-up. Their brain was tested as well with a challenging brainteaser.
Afterwards the different teams (circa 200 people) went head-to-head in the Games. The program was tailor-made, which allowed non-athletes to battle for the first place as well.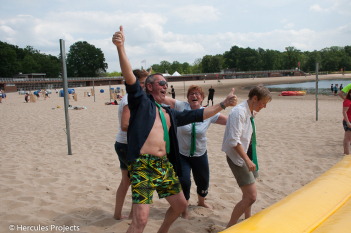 It doesn't come as a surprise that the ice cream in between and the after-event drinks were received very well.
At the end of the competition, the winning teams were celebrated But the most important message was very clear: every single participant went home and felt like the winner of the day. 
What made this team day so unique?
Online/offline: the online preparation through the platform created a vibe weeks before the event even took place. Colleagues invented funny costumes, challenged each other and created their own team identity.
The flawless organisation with a genius planning which made sure that the teams constantly encountered each other and had a great experience in a short period of time.
Inclusion: whether you are athletic or more intellectual: everyone felt good and was able to use their own talents. That's exactly what the Herculean spirit is about!
Do you want to organise a great team event that lasts longer than just one day and builds the vibe weeks beforehand?
Hercules Projects creates an unforgettable bespoke experience for you that will boost the team spirit of your organisation! Feel free to take a look at our website or contact us for more information.
Curious to find out about the winners of the competition? Here's the overview:
1st: The Muppets
2nd: Team 007
3rd: De bananas
Coolest team: Helaba! this is….. JOLABA
Smartest team: De helden van Olympos
Best Dressed Team: Boeing Z-1980
FairPlay Team: Girls just want to have fun 🙂