What we eat has a lot of influence on how we feel throughout the day. So, it all starts with a good breakfast. And because Herculean Alliance has a partnership with OKONO, we thought to find a recipe for a breakfast toast of higher standing. All things first, we need bread, OKONO bread.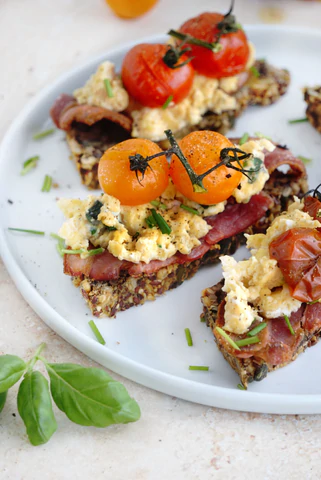 Ingredients
OKONO bread (4 thick slices)
4 eggs
2 tablespoons ricotta
A handful of fresh green herbs: basil, chives
8 vine tomatoes
4 slices of bacon
Pepper
Salt
1 tablespoon ghee or coconut oil
How to prepare
Preheat the oven to 220°C.
Place the vine tomatoes and bacon on a baking sheet (lined with baking paper).
Drizzle the tomatoes with olive oil and season with salt and pepper.
Place the tray in the oven for 10-15 minutes. (Until the bacon is crisp and the tomatoes are roasted)
Beat 4 eggs.
Add 2 tbsp ricotta.
Add a handful of finely chopped fresh green herbs. Mix everything well.
Season with salt and pepper.
Fry your scrambled eggs in 1 tbsp ghee or coconut oil.
Cover your slice of bread with bacon, scrambled eggs, and tomatoes.
Nice with some extra chives on top.
You can combine a lot of ingredients into this delicious dish of breakfast toast. Or you can find more recipes.