You may have seen a lot of recipes from OKONO. But did you know that you can make even dinner with ingredients from OKONO? We at Herculean Alliance have the perfect recipes for you to start your journey into making food with OKONO. And you don't even have to spend an hour in the kitchen. Fantastic, right? Well, follow along as we show you how to make a stuffed chicken with OKONO.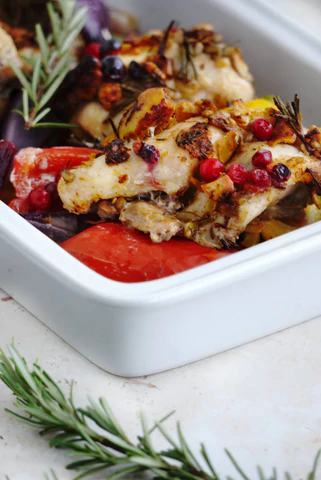 Ingredients
50 g butter
2 tablespoons Golden Dream Granola
Thyme, rosemary, pepper, salt and paprika
2 cloves of garlic, 1 tablespoon of cranberries and 1 tablespoon of lemon juice
8 chicken thighs
3 peppers of your choice
Instructions
Mix 50 g butter (at room temperature) with 2 tbsp Golden Dream granola, thyme, rosemary, pepper, salt, paprika, 2 cloves pressed garlic, 1 tbsp cranberries and 1 tbsp lemon juice.
Cover 8 chicken thighs with this nut spice butter. Put a good layer on top and you can even put a little in the chicken as well. Let it sit for 20 minutes.
Cut 3 colored peppers into 4 pieces and place them in a baking dish.
Roughly slice 1 – ½ red onions and spread them over the dish.
Place your chicken thighs on top of the greens, and finish with additional cranberries. Put a few sprigs of rosemary on top.
Place in a 190°C for 25 minutes.
We hope this recipe gets you excited to try more recipes from OKONO.