Looking for a perfect way to start your day with a toast? OKONO, one of the partners of Herculean Alliance, knows all about it. Well, if you're looking for a breakfast toast at least 😉 Try their healthy breakfast toast:
INGREDIENTS
OKONO bread (4 thick slices)
4 eggs
2 tbsp ricotta
handful of fresh green herbs: basil, chives
8 vine tomatoes
4 slices of bacon
Pepper
Salt
1 tbsp ghee or coconut oil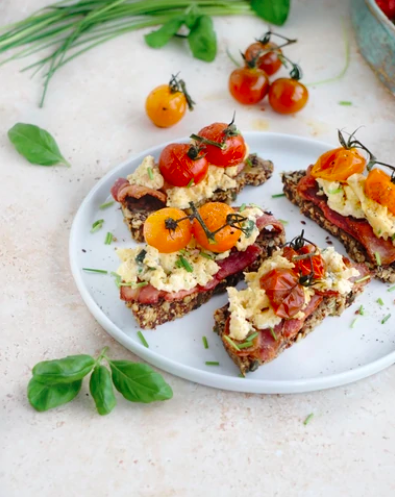 INSTRUCTIONS
Preheat the oven to 220°C.
Place the vine tomatoes and bacon on a baking sheet (lined with baking paper).
Drizzle the tomatoes with olive oil and season with salt and pepper.
Place the tray in the oven for 10-15 min. (until the bacon is crisp and the tomatoes are roasted).
Meanwhile, beat 4 eggs.
Add 2 tbsp ricotta.
Add a handful of finely chopped fresh green herbs. Mix everything well.
Season with salt and pepper.
Fry your scrambled eggs in 1 tbsp ghee or coconut oil.
Cover your slice of bread with bacon, scrambled eggs and the tomatoes.
Nice with some extra chives on top.
So Herculeans, start your day with a toast and you can (almost) handle anything 😉
Do you prefer something sweet? Try this healthy chocolate chia pudding! Or maybe something else? Take a look at Okono's website for even more vegan, keto and gluten-free recipes.