Indeed, we like our cheesecake to be "cheesy", and there's a lot of yummy cheesecake recipes out there. But does cheesecake also rhyme with healthy? You might think it doesn't, so that's why it might be on your guilty pleasure list. But what if we told you that there's a solution? OKONO, one of the partners of Herculean Alliance, is here to the rescue by offering a gluten-free, vegan and keto cheesecake recipe. Hallelujah. We just LOVE their cheesecake granola bombs! And cheesy they are indeed.
Give it a try.
INGREDIENTS:
80g OKONO granola
1 tbsp coconut oil
50g OKONO chocolate
sugar-free jam
150g cream cheese
100ml whipped cream
50ml lemon juice
1tl vanilla extract
2 gelatine sheets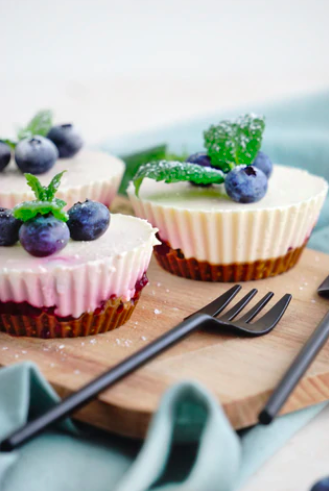 INSTRUCTIONS
Grind 80g of granola.
Melt 50g OKONO chocolate with 1 tbsp coconut oil.
Add the crushed granola and mix well.
Press the mixture firmly into (silicone) muffin tins.
Place in the fridge for at least 2 hours.
Remove from the fridge and spread a layer of sugar-free jam on top. We chose strawberry jam, but any flavour will do!
Soak 2 gelatine sheets in a bowl of water.
Put 150g cream cheese, 100ml whipped cream, 50ml lemon juice, 1tl vanilla extract and 2 gelatine leaves in a saucepan on low heat.
Make sure everything is mixed well and the gelatine sheets are completely dissolved.
Pour into your muffin tins and leave to harden in the fridge (around 4 hours).
Top with Steviala frosting, red fruit and mint if desired.
So, try it out and let us know how it went.