Allied Medical Center new partner at Pink Ladies Games Dubai. Sheraton Jumeirah Beach Resort will come alive on 2nd November as women from across the UAE will come together for the annual Pink Ladies Games. An exciting morning with lots of fun and active challenges will be on offer as hundreds of women will raise money for breast cancer awareness.
We are launching the feel-good programme for a third year running. Unusual and active challenges designed for women by women will unite a variety of different cultures and ages as they embark on an energetic morning with six core challenges on offer.
We are happy to be running our third event in Dubai and we are thrilled to welcome our first Title Sponsor, Allied Medical Center, a significant center specialising in Breast Cancer diagnostics and awareness.

A few words from Karen Nieuwoudt, Business Unit Manager, Allied Medical Center: "Allied Medical Center is honored to be the Title sponsor of the 2018 Pink Ladies Games and believe that Breast Health should be part of every woman's lifestyle.  Awareness is the greatest protection against breast cancer and survival is often linked to early diagnosis. At Allied, we are supporting the fight against breast cancer by continuously creating awareness, investing in latest technology and providing clinical expertise to the community of Dubai."
Inge Van Belle, Founder at Pink Ladies Games said:  "The Games debuted in Belgium and have been running successfully in 12 cities across Europe. The event has now gone global and we are looking at hosting this across the world. We are happy to be running our third event in Dubai and we are thrilled to welcome our first Title Sponsor, Allied Medical Centre, . Last year, we attracted almost 1,000 women of all nationalities and ages who entered into the spirit of things and thoroughly enjoyed the event particularly as it was all in aid of Breast Cancer awareness."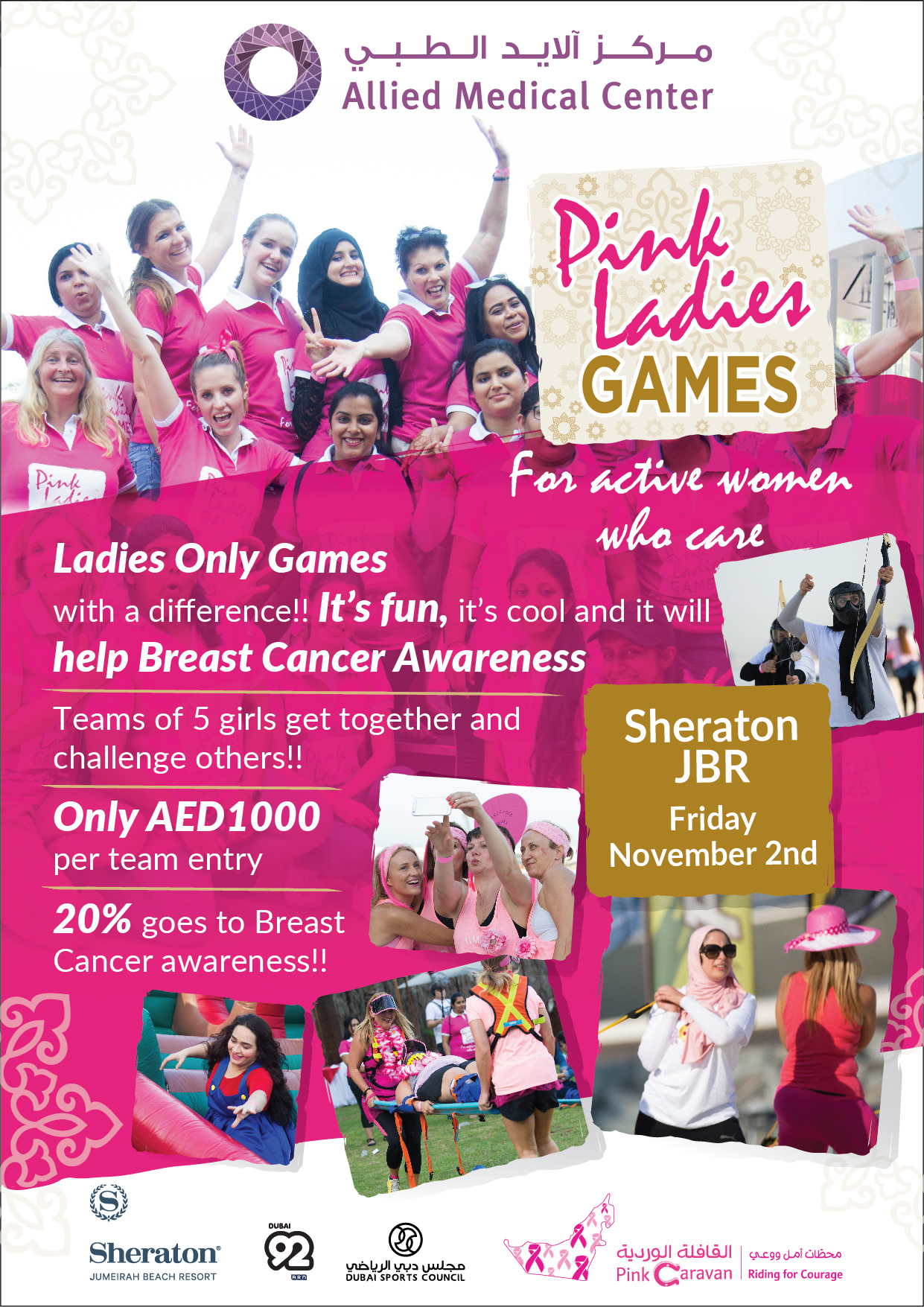 What is Allied Medical Center?
Allied Medical Center brings together a highly qualified team of experienced doctors, specialists in their fields, to provide quality healthcare to the highest international standards and one-stop solutions for consultation, diagnosis, treatment, procedures, laboratory and comprehensive diagnostic imaging services to our patients, all under one roof.  They offer a dedicated Breast Health Clinic for screening and diagnosis of breast disease.
Based in the heart of Dubai with easy access and ample parking, their medical center offers a tranquil private ambience to all their patients, with a patient centric philosophy applied to all aspects of patient interaction and throughout the patient pathway. Their goal is to provide comprehensive, outstanding personalized services for men and women of all ages, in comfortable discreet surroundings, making the best use of clinical expertise and latest technology to deliver fast and accurate diagnosis to their patients.