Pink Ladies Games UAE 2018: Thank you! It's a wrap! The Pink Ladies Games Dubai 2018 have been absolutely fantastic. First off, we'd like to thank everyone who helped make this third UAE edition a success: our sponsors –Allied Medical Center in particular-, HH Sheikh Hamdan bin Mohammed bin Rashid Al Maktoum as organiser of the Dubai Fitness Challenge, our volunteers, co-workers and last but certainly not least, our participants.
Well over 600 women of all cultures and ages turned up last Friday, equaling a whopping 108 teams. We know for a fact that they're all active women who care, as we've rarely seen so much teams being this eager to participate -both during the day and beforehand. Take AWRostamani Pink Slayers for instance: they've succeeded in generating 665 online votes for their team even before the actual competition started. Thank you ladies, for spreading the word! Other teams as well, have put a heart warming amount of effort into their online team profiles and came up with rather hilarious team names. Or what did you think of HKA's teams that were called "Rack Attack" and "Treasured Chests"?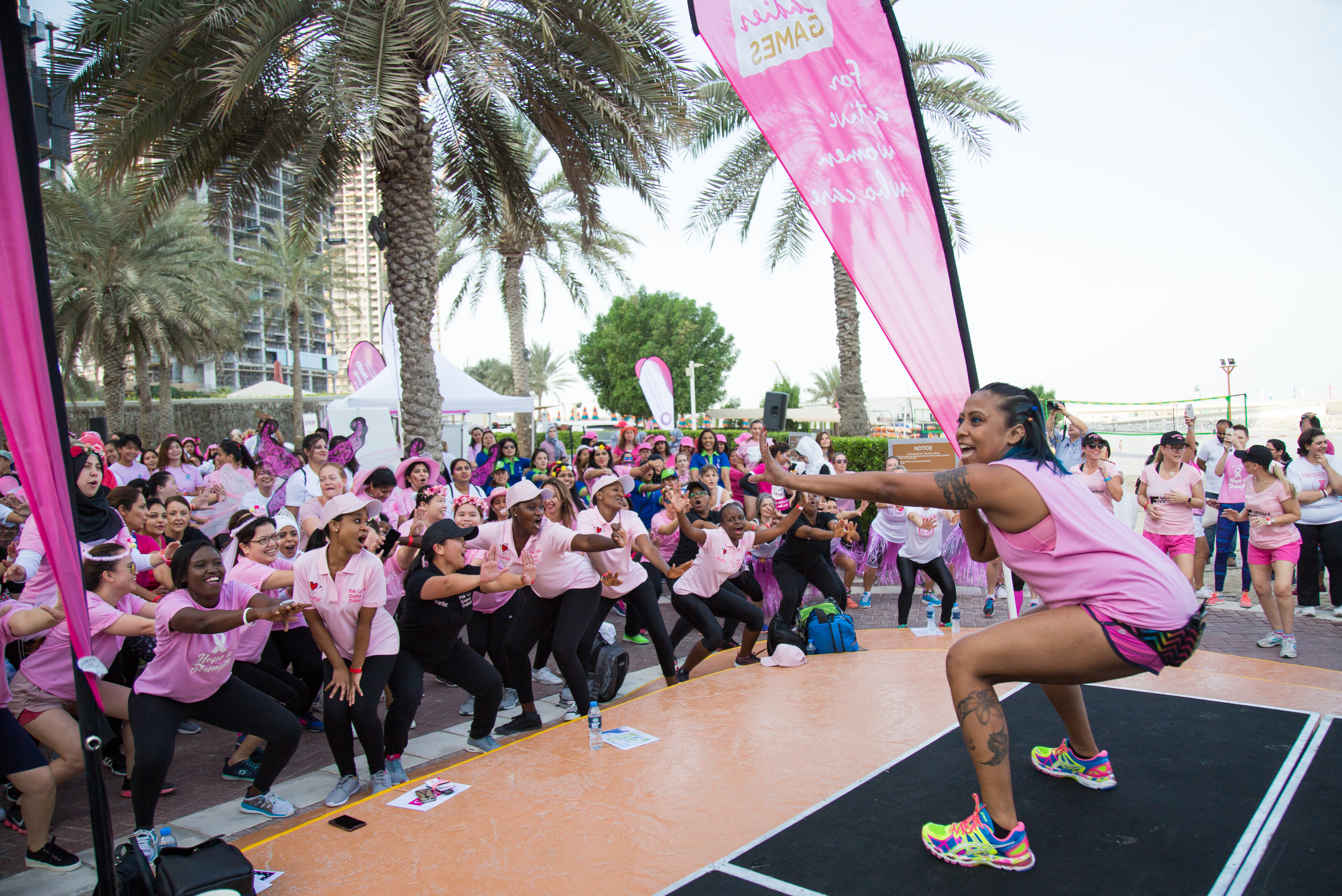 When the long wait was over and the Pink Ladies Games Dubai finally commenced, all those ladies were a truly lovely sight to behold. We saw pink bunnies, unicorns, cats, butterflies and even cricket players. And while the participants were already all dolled up, no pink lady would abstain from a free beauty workshop. No wonder that Jumeirah Jane's pop-up beauty park with a hair salon, nail polishing studio and all round make-up center, proved to be very popular amongst the ladies!
Six fun battles had our participants smiling from the outset and throughout. Picking a favorite between Flip It Fiasco, Kayaking Kombo, Poly Volley, Bounce Beauties, Playhard Pétanque and Caterpillar Crawl turned out to be nearly impossible, but feel free to make up your own mind while looking at the pictures.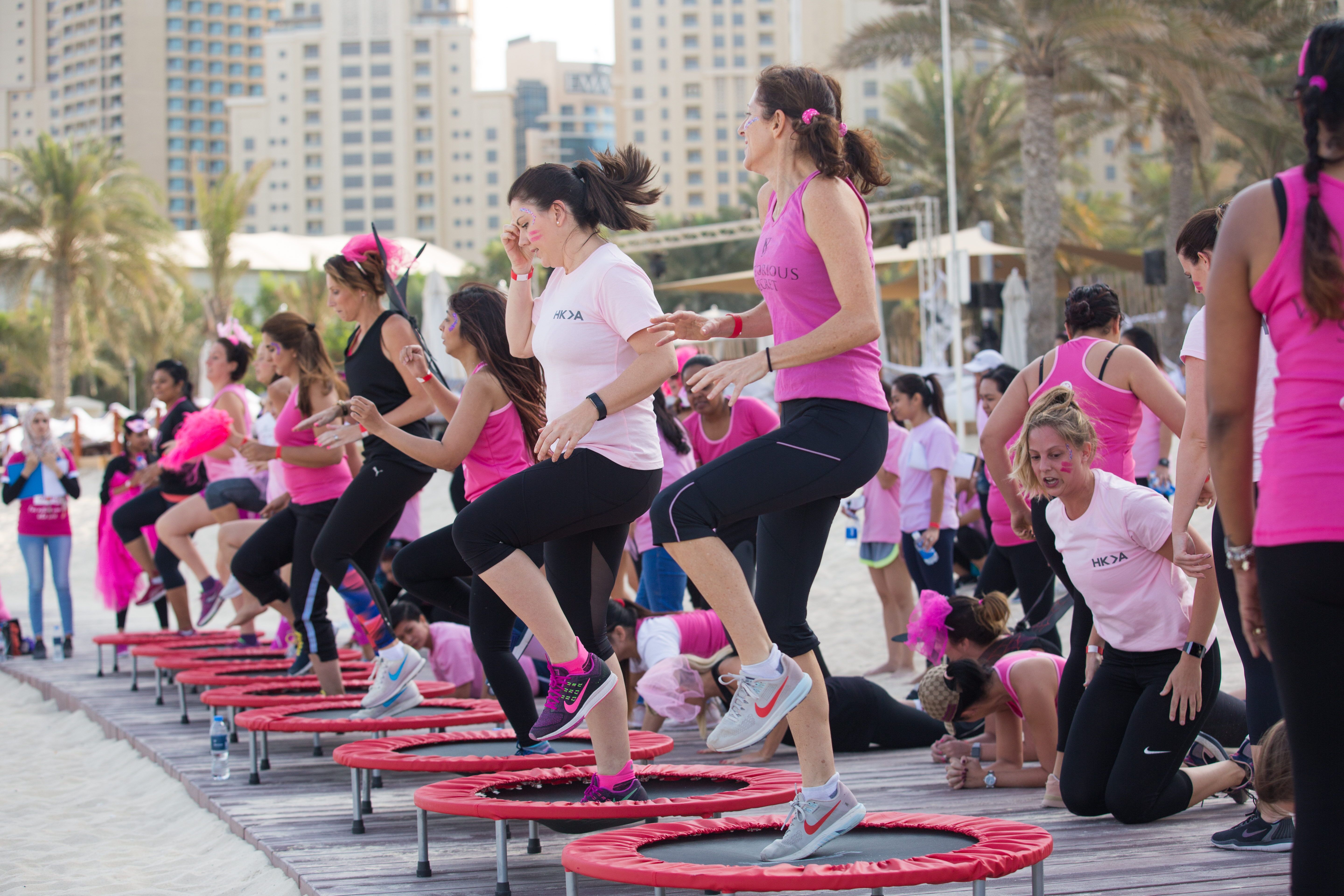 After a couple hours of intense battling (and even more intense laughing) in the early morning, all teams were treated to a delicious breakfast provided by JBR. There was more to give as well, as the prize giving ceremony started soon after breakfast. With prizes ranging from beauty products, to overnight stays at some of Dubai's finest hotels, you can rest assured that most teams were hoping to take one home.
Pink Ladies Games UAE 2018: Thank you! Oh and lest we forget: we've raised thousands of AED for Pink Caravan and breast cancer awareness! Aside from raising funds from our side by donating 20% of all profits, both Pink Caravan and our Title Sponsor Allied Medical Center helped raising awareness through physical stands at the event. There, our participants could find more information on the matter, as well as helpful colleagues to shed light on all remaining questions regarding breast cancer.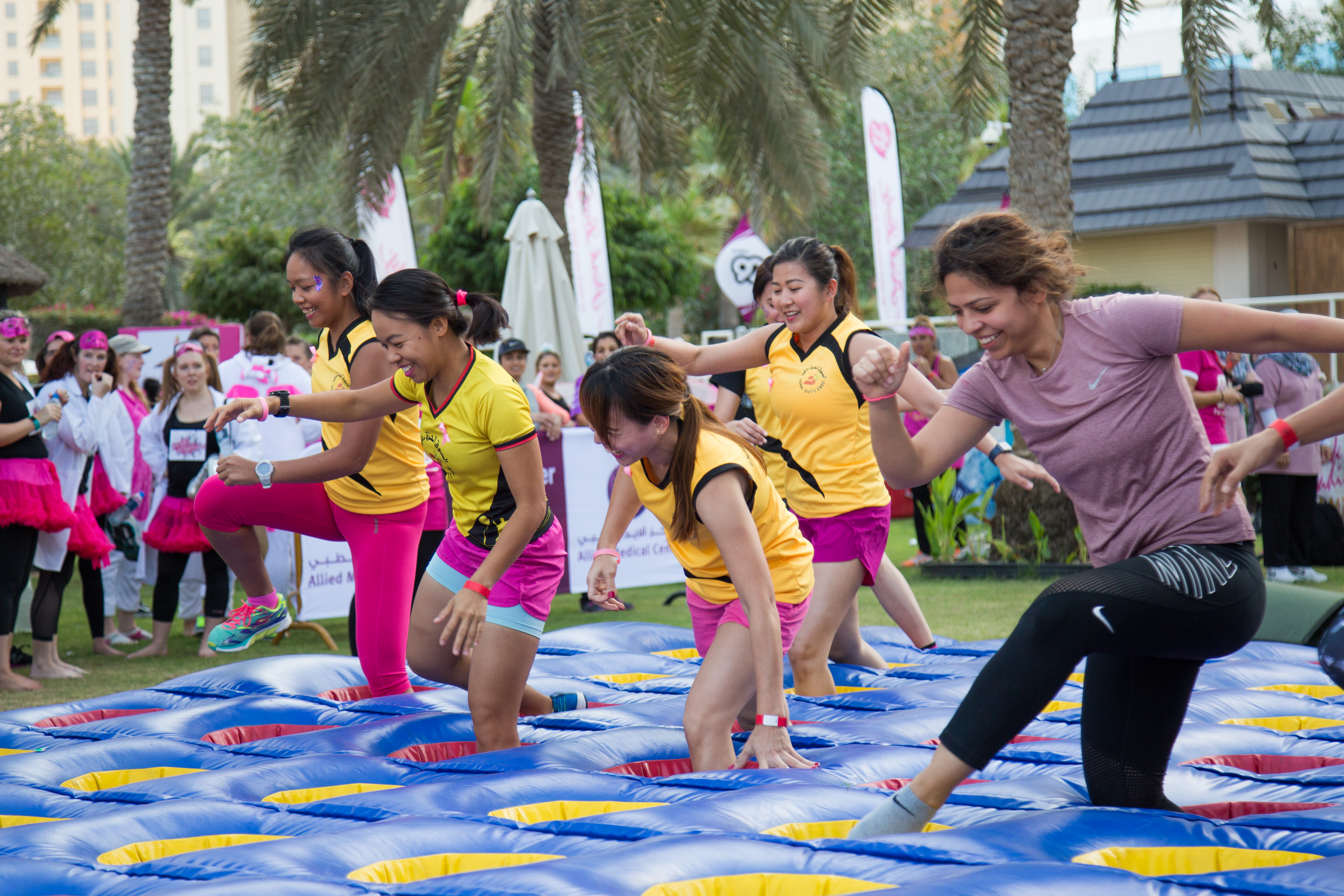 At Herculean, we couldn't be more pleased to see our very own CSR 2.0 initiative gaining this support in the UAE and Europe. We're thrilled to discover that a lot of UAE companies share our vision in working towards a better future for women globally. Thank you TPH Cleaning, Xylem, ARN, AW Rostamani, DHL, Dubai Duty Free, Michelin, Pico, Redington, Triplefast, Movenpick,… and many more.